Supply Chain, IT Project Manager, Database Analyst or Supply Chain Manager, we can help. Time-to-value is key. We Recruit for all Supply Chain, Logistics, Technical and Procurement Positions for Military Veterans. We are sensitive to recruiting in your local market. We link Technical & Supply Chain Organizations with best in class military talent. Morgan Veteran Recruiting Group is veteran owned premier military recruiting service with a focus on building successful partnerships with successful organizations with the placement of Military veterans transitioning to the civilian workforce into Supply Chain Management & IT opportunities. At MVRG, we represent 20 years of collective Supply Chain, HR, and Technical experience in various fortune 500 companies. That's why companies turn to us to find them the best talent, the brightest candidates to lead their supply chains in best practices, integration, seamless operations and the highest levels of customer satisfaction.
Morgan Veteran Recruiting Group tailors our search services to the requirements of individual projects, enabling our teams to best help clients and candidates achieve their business and professional goals. Across our practice groups we offer a variety of Retained Recruiting and Contingency Recruiting designed to assist clients in meeting their specific hiring and staffing requirements.
Regardless of the approach, Morgan Veteran Recruiting Group knowledgeable search experts, collaborative culture, and rigorous methodologies drive competitive advantage. Discover what's right for you and your business.
Our Process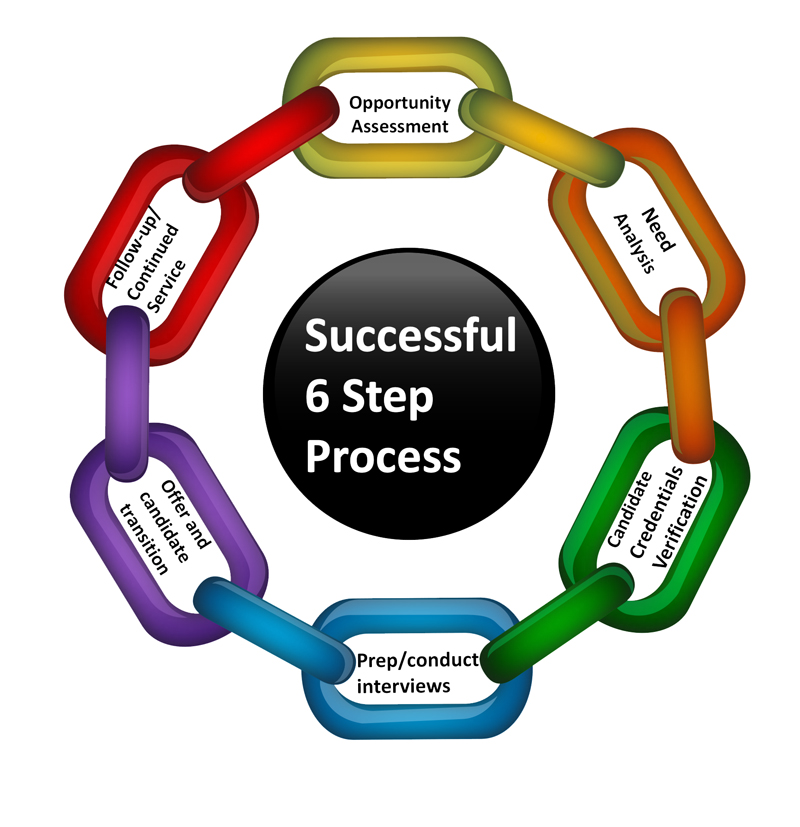 Step 1: Opportunity Assessment
Opportunity Assessment

Understand company and culture

Create the sourcing strategy
Step 2: Needs Analysis
ID Sourcing techniques
Talent availability
Step 3: Candidate Credentials Verification
Phone interview
Competency and intelligence assessment
Step 4: Prep/conduct Interview
Candidates profiles are review as a group to ensure client has candidate's comparison
Coordinate interviews and debrief meetings
Step 5: Offer and Candidate Transiiton
Perform reference checks
Assistance in market competitive compensation
Candidate employment agreement and start date
Step 6: Follow-Up / Continued Service
Communication with  Client and Candidate for the first 90 days to measure both parties' satisfaction
Ensure the candidate develops into a long-term value to the organization
Why Choose Morgan Veteran Recruiting Group?
Simple. Supply Chain Management and Technical recruiting is our business, and our specialty. We have over 20 years' experience in the Supply Chain and IT industry. That means we have the tools, connections, knowledge and expertise to recruit and place the right Veteran candidates for your company's needs. As a niche employment firm, we want to be your "One Stop Shop" for Military talent with a particular skill set. Combined, our team has well over 20 years of supply chain, logistics, and recruiting experience which means we have access to a large variety of high-quality of military candidates for companies across the United States.