Resume Writing Service
Two resume resources we recommend are HireHeroes USA and Paradise Writing.
HireHeroes USA is a 501(c)3 organization offering resume review and LinkedIn Profile assistance at no charge to veterans. Their work is great, and their volunteers are committed to your success. (https://www.hireheroesusa.org/)
Paradise Writing is owned and operated by Amira Shea.  Her quality of work is outstanding. We highly recommend working with Amira as her ability to translate military skills and experience into civilian terminology is unparalleled.
If you work with Amira, let her know Morgan Veteran Recruiting Group sent you. info@paradisewriting.com

---
Books
Your Next Mission: A personal branding guide for the military-to-civilian transition, is a powerful new employment resource available for the millions of veterans currently or soon-to-be transitioned into the civilian sector.
This book specifically addresses the gap in current tools available for the military-to-civilian transition challenge by providing a clear, compassionate, and compelling guide to building a unique personal brand, evaluating career options based on individual values, and providing clarity in the job search process for veterans.
With interviews with key executives from America's leading companies transitioned veterans and veteran advocates, Your Next Mission provides insight, tools, confidence, and competitive advantage for the veterans' next chapter in their lives.

---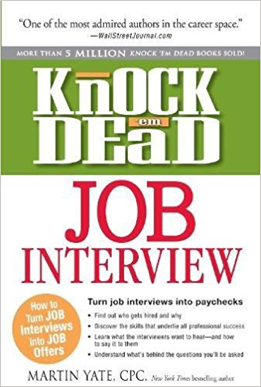 With Knock 'em Dead Job Interview, you will finally be able to differentiate yourself from the competition and score the job! Martin teaches you who gets hired and why, plus how you can leverage this knowledge to help your professional growth once on the job.
The interview is one of the most crucial moments of the job search experience and your chance to show your potential employer that you have what it takes to succeed in the position.
In order to do that in today's highly competitive job search environment, though, you'll have to find a way to stand out from the crowd. We highly recommend this book to prepare for your next interview.